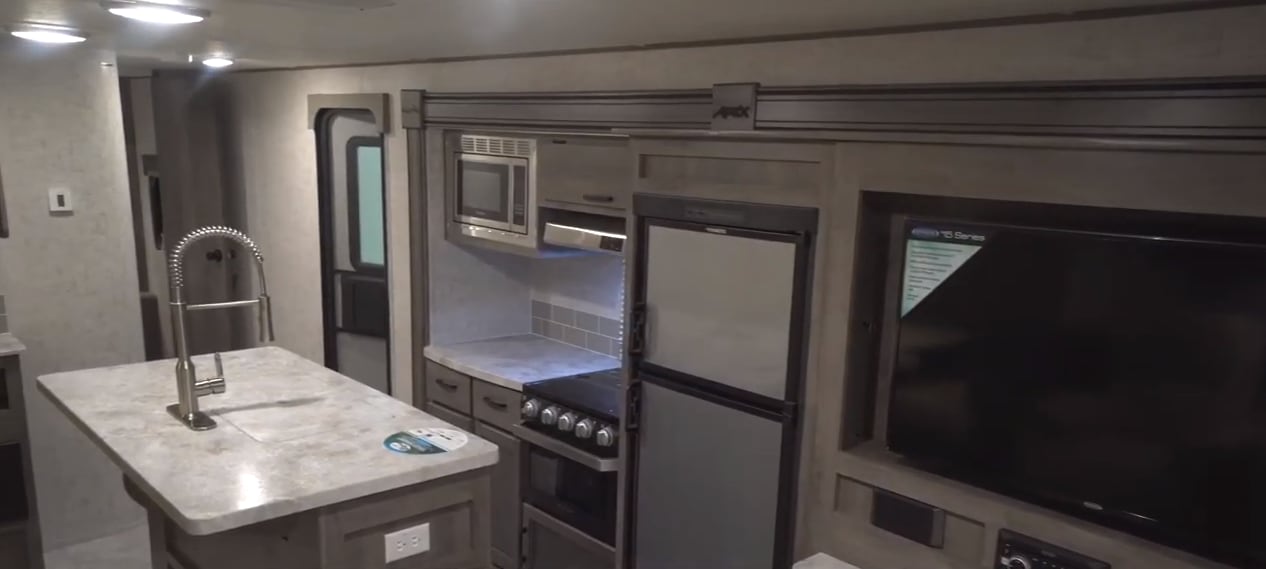 Pictured: The interior of a Coachmen Apex Ultra-Lite.
In search of an updated RV model from Coachmen? Check out the inventory of travel trailer options provided in our inventory here at Jerry's Auto Sales. Our Coachmen RV models, such as the Apex Nano and Apex Ultra-Lite, have several package options and interior perks available for you to choose from. Explore a few of your options today.
Inside the Coachmen Apex Models
Standard packages on the RV models that we carry feature practical capabilities that you'll utilize daily in your RV. Enjoy a DSI water heater, TV antenna with cable hookups, LED lighting throughout the cabin, an outside shower, an Evergreen mattress, stainless steel microwave, outside speakers, and much more.
Choosing to upgrade with the Comfort Package or Summit Package that Coachmen offers will earn shoppers with perks such as:
A power awning featuring LED lighting.
A vent furnace.
Magnetic door catches.
Additional kitchen storage space.
A stonecast sink.
Accent lighting.
Aluminum wheels.
Interior Finishes Keep Lennox Drivers Spoiled
In addition to the features you'll experience inside an RV like the Coachmen, you'll also enjoy a variety of luxe finishes that make your RV feel like home. Enjoy pewter maple cabinetry, grey nightshades, seamless edge countertops, Congoleum Diamond flooring, and hardwood cabinet door frames.
You'll also experience the same level of safety and security you enjoy at home, with a fire extinguisher, Carbon Monoxide detector, smoke alarm, and LP leak alarm.
Explore the Interior of a New Coachmen RV near Lennox
Stop by your local Jerry's Auto Sales dealership to discover your options in our extensive RV inventory. Choosing a Coachmen Apex Nano or Apex Ultra-Lite means choosing an RV that will earn you luxury, peace of mind, and confidence on any Lennox road to come.